When it comes to stairs and railings, we are a full-service organization.
From initial contact to completion, one step at a time, our goal is complete satisfaction. Design consultations are held by appointment in our showroom. We can also accommodate meetings virtually!
Design Consultation
3D Renderings
Manufacturing
Material Supply
Installation & Stair Protection
Our Process One Step at a Time
1
Ready to start? Send us your plans, pictures of the existing space, and any style and material preferences you have. Including any reference photos of similar designs is always helpful.
Step 2
Design Consultation
Step 2
Design Consultation
2
Now the fun begins! Our design experts will discuss materials, styles, finishes, and trends to help you make the right decisions for your project.
3
After verifying the design options, we will prepare a detailed quote for you.
Step 4
Measurements
and Specifications
Step 4
Measurements
and Specifications
4
Once you are ready to move ahead with your project, our team will schedule a site visit to verify measurements and stair layout. In this step, we will provide instructions on any work to be done on your end, including adjusting openings, landing construction, etc.
5
Time to get to work! Our manufacturing team takes over from here and starts to build all the pieces. We use top-quality wood, metal and glass materials for your stair and guard systems.
Step 6
Installation Phase I
Step 6
Installation Phase I
6
Installation day! The most rewarding and exciting part of the process. If your home is still under construction at the time of stair installation, stair protection is used to protect your staircase while construction is still ongoing. Stair installation generally occurs at the rough-in stage or when drywall is installed.
Step 7
Installation Phase II
Step 7
Installation Phase II
7
Another piece to the puzzle is added here in Phase II – we install guards and rails at different stages depending on your flooring choice. For prefinished flooring, the guards, nosings and rails go on prior to floor install. For a traditional site finish floor, the rails and guards go on after the stain and first finish coat are done. With our stair protection, your stair can remain fully or partially covered during and after the installation of the guards and rails.
8
Customer satisfaction is our ultimate priority. We will schedule a final site visit to remove the stair protection, quality inspect your stairs and railings, and perform any required touch-ups. The process is now complete for you to enjoy your new stairs and railings!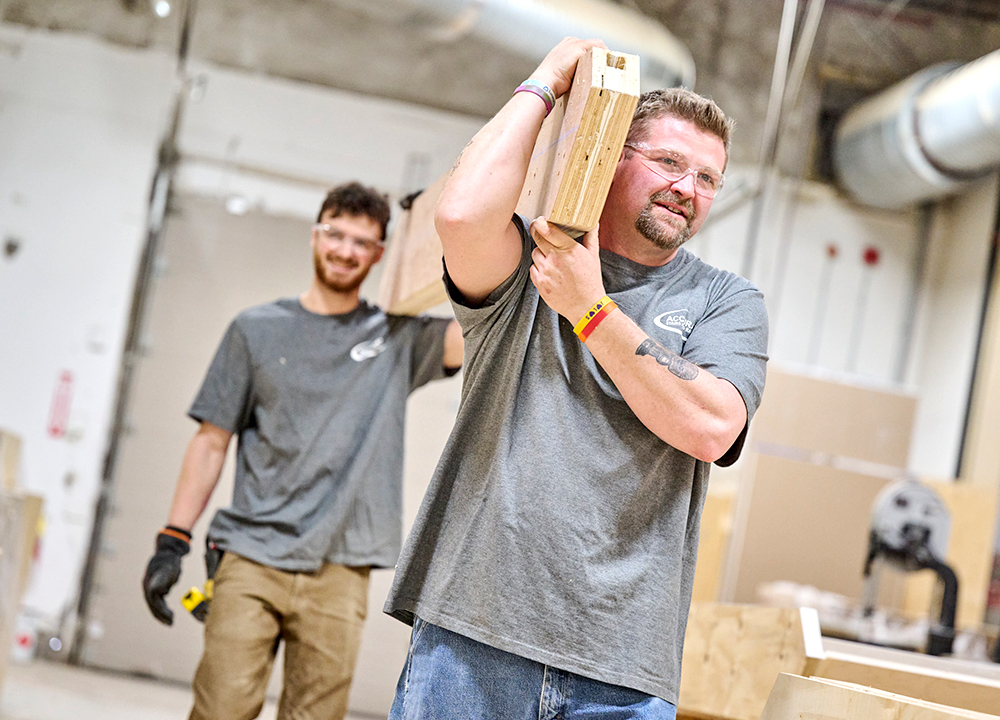 The Mill
Accurate Stairs and Railings has a mill right onsite. This means we can design, manufacture, and produce our own treads locally. We are proud to support local talent and materials whenever we can.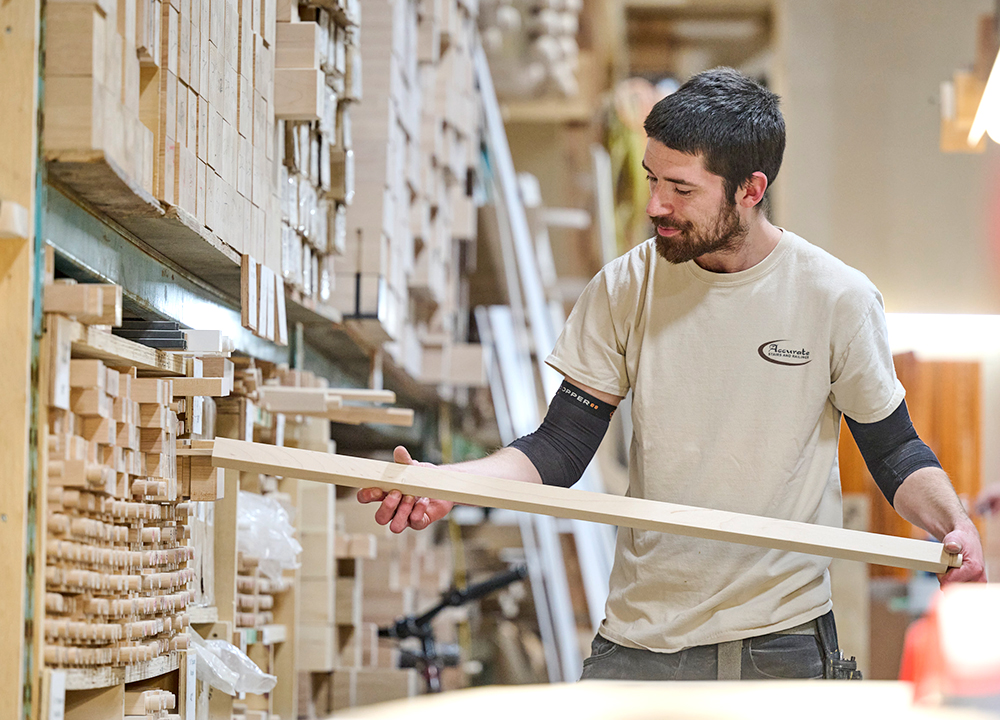 The Warehouse
Inventory – yes, we have that too! Our warehouse houses all our stock products, including railing and stair components, and all the materials we need on hand to build your custom designs.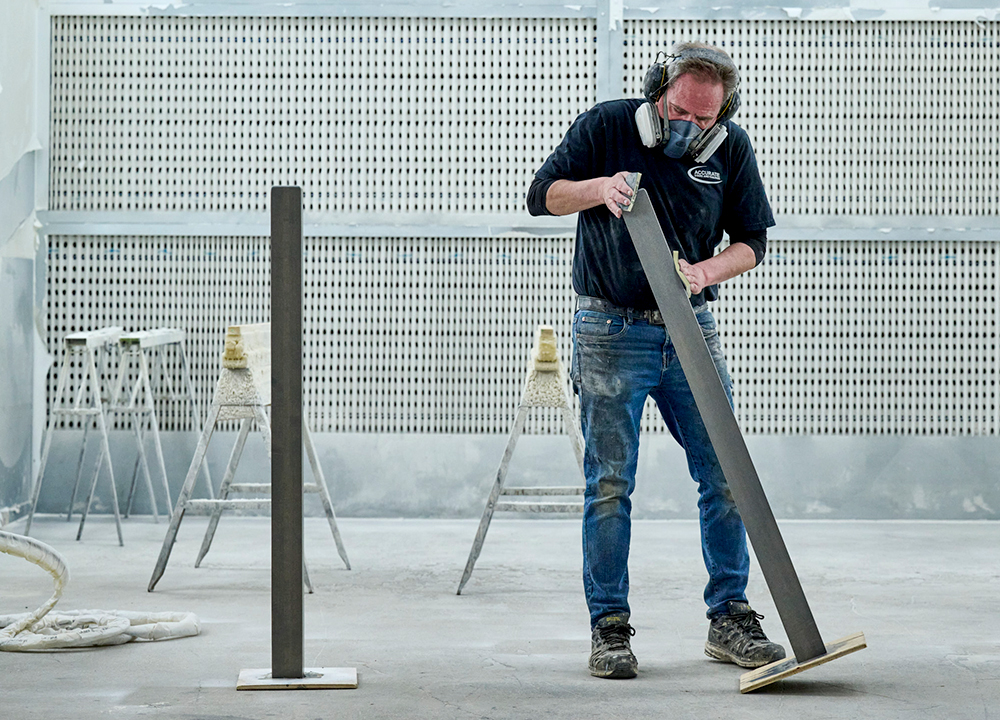 The Finishing Area
Once we've built your stairs and railings, they need to be safely stained, painted or finished. The Finishing area is an air-controlled spray booth that gives our team the space required to produce optimal finished products before they are stored or installed. This process benefits our clients because they don't have to worry about strong odours in their homes and allows immediate stair usage.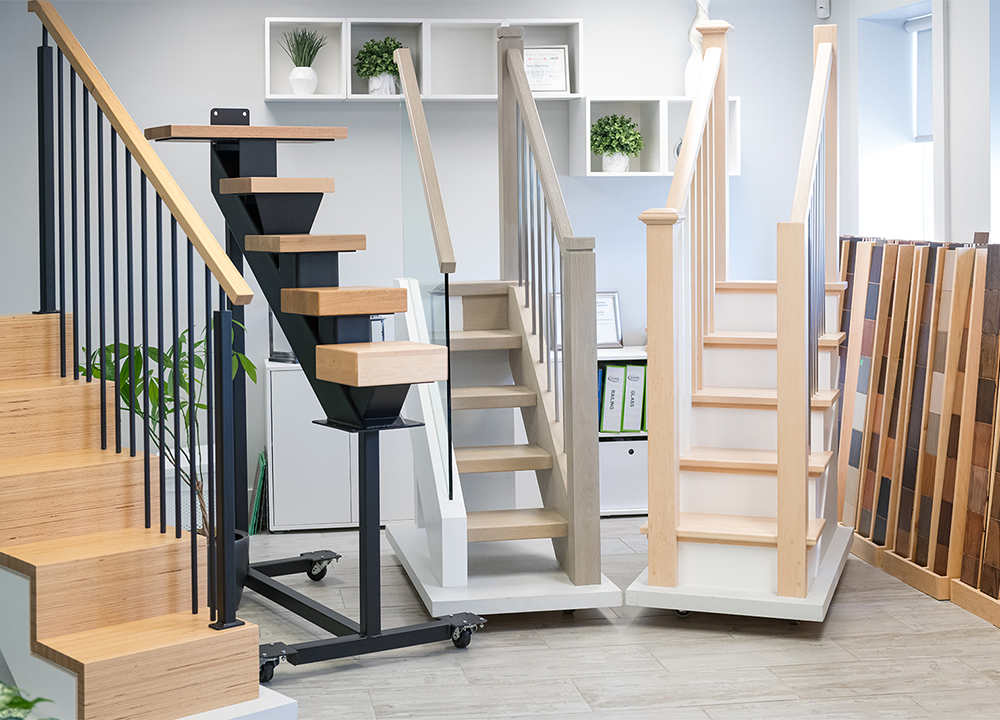 The Showroom
With an appointment in place, we welcome our clients into our showroom, where they can browse through stair displays and a wide variety of rail components. It's a real-life Pinterest board to inspire you and help you make decisions about your project. Our design consultants can walk you through conceptualizing your project.
Clients Are Saying
Your attention to detail and craftsmanship in recapping the stairs at the Canadian Golf and Country Club combined to create an enormous impact on the entrance. The transformation exceeded our clients' expectations.
We have partnered with Accurate Stairs and Railings for many years now and have always been impressed with their workmanship. Quality is very important to us as a custom home builder, and we are very pleased with the quality of materials and with the skills of their installers.
In addition, our homeowners have repeatedly expressed their pleasure with the final outcome of their stairs and railings. We value Accurate Stairs and Railings' commitment to excellence and it shows in their award-winning staircases. We look forward to a continued successful working relationship.
It has been a privilege for us to be a client of Accurate Stairs and Railings for over a decade. Accurate Stairs and Railings is a company that cares passionately to produce excellence for their clients. With great attention to detail, they are careful to ensure every element lives up to the highest standards. Special recognition to Nathalie and Brent who are giving phenomenal customer service. Thank you!
Accurate Stairs & Railings has continued to be a trusted partner of Logs End for over 15 years. We continue to refer our customers to Accurate as we know they will receive exceptional service and quality craftsmanship on every project. We confidently recommend the Accurate team for any residential or commercial project.
We've worked on a number of custom homes with Accurate Stairs & Railings and have always had a great experience. Brent and his team are extremely thorough; they work closely with us to ensure the design intent is carried through and that all of the details are executed to the calibre that our clients expect in their custom homes. Accurate has always been an integral member of our construction team and a large contributor to the success of our projects.
Stairway to heaven… The picture does no justice. You guys are the best. Superb work and very friendly to deal with. Wouldn't think of recommending anybody else.
We had our staircase recapped with new oak treads in August 2021. We are just delighted at the end result and very pleased at the way in which the work was conducted. We worked with the team from Accurate Stairs to discuss the project and to make appropriate design choices – their good advice saved us from making choices we might have regretted. They were very flexible in expanding the scope of the project to include our wish to include flooring and baseboards in the upstairs hall to match the new stairs. Once the work started, it was done efficiently and well and the team ensured that we had appropriate access to the house during the course of the work. The craftsmanship and pride in their work was very evident throughout. They took good care to keep the place clean and to prevent the inevitable dust from spreading around the house as much as possible. They cleaned up at the end of every day. The team at Accurate Stairs was available as we needed them and a pleasure to deal with. Our new stairs are just great and we are very happy with our experience of working with Accurate Stairs.